Easter Symbols
---
Chrisitian Symbols

Lilies are used to decorate churches and homes. The large, pure white blossoms of the Easter Lilies remind Christians of the pure new life that comes to them through the Resurrection of Jesus. The new plant life that appears in spring symbolizes new life.

The blood of the Passover lamb caused the angel of death to "pass over" the Israelites. John the Baptist calls Jesus "The Lamb of God, which taketh away the sin of the world." John 1:29
The Cross, which is the most familiar and universal symbol of Christianity and the Crucifixion, is particularly associated with the Easter season. Jesus was nailed to and died on the cross on Good Friday.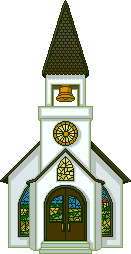 Easter Sunday is a day for rejoicing. It was on Easter Sunday that the friends of Jesus learned that Jesus was alive again. They went to the cave where Jesus had been buried. They found that the huge rock, which blocked the entrance to the cave, had been rolled away. The cave was empty. Jesus was alive again! He promised new life to everyone who believed in Him.
Many Christians celebrate the promise of Jesus by going to church on Easter Sunday. They wear their best clothes. Churches are filled with flowers and candlelight. Bells ring out the happiness people feel. Everyone sings joyful hymns. Christians celebrate because Jesus has shown them God's power and love.

The Chick is another Easter Symbol that represents new life or rebirth. The Chick breaking out it's shell is a symbol for Jesus' ressurrection, when the rock was moved and he imerged from the tomb.
---
Non- Christian Symbols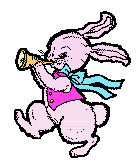 The Easter Bunny has its origin in pre-Christian fertility lore. The Hare and the Rabbit were the most fertile animals known and they served as symbols of the new life during the Spring season.



Universally a symbol of creation, renewed life, resurrection, fertility and the Easter Egg or Hare which laid the Easter Egg and it was the emblem and sacrificial victim animal of Eostre.


Who is this Eostre?? Scholars believe the name Easter is thought to come from the Scandinavian "Ostra" and the Teutonic "Ostern " or "Eostre," both Goddesses of mythology signifying spring and fertility whose festival was celebrated on the day of the vernal equinox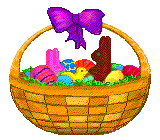 Easter Baskets symbolize nests where the Easter Bunny laid it's Easter Eggs. Today, baskets are used for the Easter Bunny hide to colored eggs and other goodies in for children to find on Easter!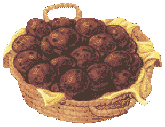 Many people around the world bake and eat hot cross buns during the Easter season. This is the only time of the year when these special buns are made. In the old days, people ate hot cross buns because they believed that the buns would keep them healthy all year.